Welcome to Rocky Mount Virginia!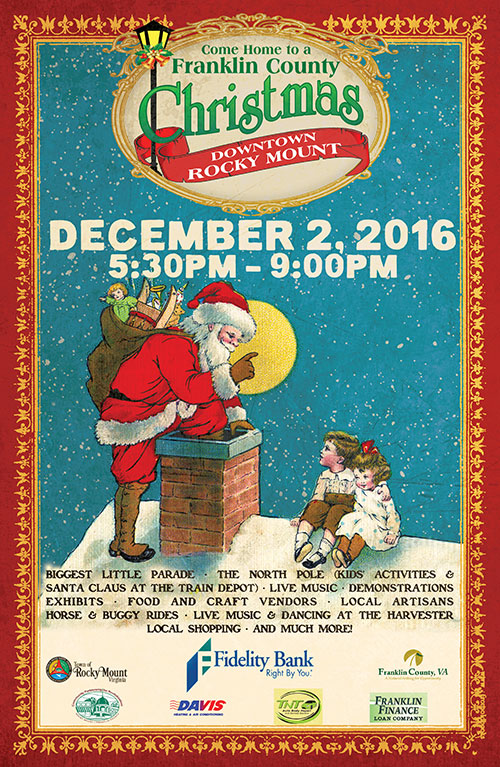 Come Home to a Franklin County Christmas
The 13th annual "Come Home to a Franklin County Christmas" took place on December 2, 2016 in Downtown Rocky Mount, VA.
Again our community and visitors turned out in record numbers for this favorite event and one that is treasured by all.  Against a beautiful backdrop of "white lights", all enjoyed the activities on Franklin Street including live music, dance performances, horse & buggy rides, and multiple food and craft vendors. Children delighted in The North Pole with both outside and inside activities.  The  Dry Hill Draggers performed inside The Harvester with live music . 
Thanks to our generous sponsors, especially Fidelity Bank, The Town of Rocky Mount, and the Office of Economic Development of the Franklin County, Franklin Finance, Davis Heating and Air, TNT Auto Body, and The Harvester,  the event was free to the public.
We sincerely thank all the performers and the vendors.  You made the event successful!
Many thanks to the Town of Rocky Mount Police Department, the Town Public Works Department, the Franklin County Sherriff Department, and the Citizens on Patrol unit. Your assistance was invaluable!
We salute all the volunteers who committed themselves to the event and to the community! You are, indeed, so very special!
Most of all, we thank the residents of our community who, each year, turn out to enjoy the festival and to treasure this beautiful community in which we live.  "Rocky Mount does Christmas Right!"
 Questions or Comments, email:   This email address is being protected from spambots. You need JavaScript enabled to view it.