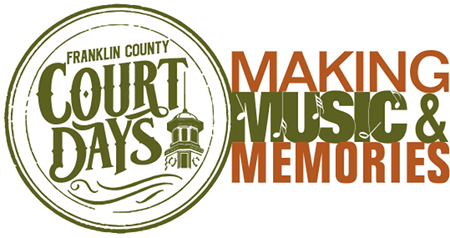 COURT DAYS, June 9, 2018  3:00 PM to 9:00 PM
                              BIG NEWS!!!!! BAND LINE UP FOR COURT DAYS
              OUTDOOR STAGE ON FRANKLIN STREET, DOWNTOWN ROCKY MOUNT
                                                     THE NEW HABIT
                                                      GROOVA SCAPE
                     LIVE AT THE FILLMORE---ALLMAN BROTHERS TRIBUTE BAND
ADMISSION TO BANDS ON OUTDOOR STAGE AND ALL ACTIVITIES ARE FREE. 
We thank our sponsors for bringing these events: Fidelity Bank, The Town of Rocky Mount, and Franklin County Office of Economic Development.  Carilion Franklin Memorial Hospital, Davis Heating & Air, The Lions Club, and TNT are also major sponsors for all these events.  
Many thanks to Fidelity Bank, our Diamond Sponsor for 2018.   
 Questions or Comments, email:   This email address is being protected from spambots. You need JavaScript enabled to view it.