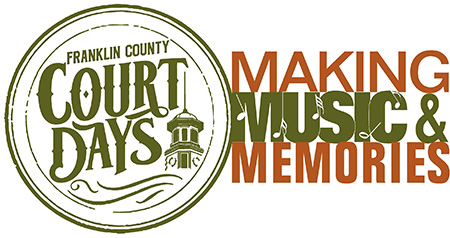 Court Day...making music and memories.
June 10, 2017 /Downtown Rocky Mount, VA / 3:00 PM to 9:00 PM
Court Days  was a long standing cultural event in Franklin County.  It was the day the traveling circuit court judge came to town. It is remembered as a day of meeting friends, making music, trading goods, and "taking care of business".  Court Days 2017 is the 3rd annual event featuring music, family friendly games/activities, multiple food and craft vendors.   
Schedule of Music and Activities:  (Franklin Street near the Farmers Market)
3:00-4:00 "Home Again" play & Storytelling at The Harvester
3:00-9:00 Kids Zone & Games at The Farmers Market
3:00-9:00 Food & Craft Vendors on Franklin Street
3:00-4:00 Heritage Winds Quintet, US Air Force, at Library
3:00-7:00 Living Faith at Clock Tower
3:30-4:30 After Jack on Franklin Street
5:00-6:00 The David Mayfield Parade on Franklin Street
6:30-8:00 Lonesome River Band on Franklin Street
ADMISSION TO ALL MUSIC & ACTIVITIES IS FREE
Court Days...making music and memories  is brought to us by Fidelity Bank, The Town of Rocky Mount, Franklin County Office of Economic Development, and The Harvester.  Carilion Franklin Memorial Hospital, Davis Heating & Air, Franklin Finance, and TNT are also major sponsors for Court Days.
Many thanks to Fidelity Bank, our Diamond Sponsor for 2017.   
 Questions or Comments, email:   This email address is being protected from spambots. You need JavaScript enabled to view it.