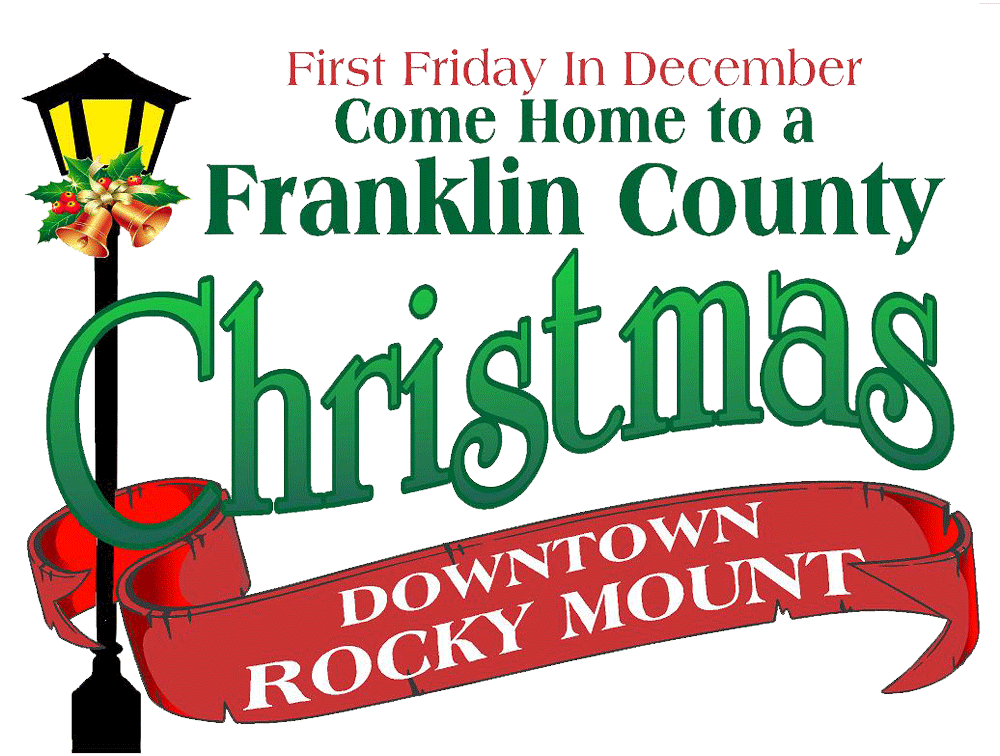 14th annual "Come Home to a Franklin County Christmas" 
                       December 1, 2017,  5:30 PM to 9:00 PM in Downtown Rocky Mount
5:30 PM  "Biggest Little Parade"
5:45 PM   Christmas Tree Lighting
5:30 PM   Christian Heritage Choir (at The Farmers Market)
5:30 PM   Youth String Quartet (at The Library)
5:30 PM   Wintertime Wonderland (at The Library)
5:30 PM   Emily Rose on The Keyster (and every hour thereafter) Christmas Carol Sing-A-Long
6:00 PM   The North Pole (at Train Depot)
6:00 PM   The Friday Night Ole' Time Band (at Farmers Market)
6:00 PM   Living Faith (at The Clock Tower)
6:00 PM   Raise the Barre Dancers (at Franklin Glass)
6:00 PM   Downtown Music
6:00 PM   Glassblowing at The Grainery
6:00 PM   Horse & Buggy Rides at The Early Inn
                           ADMISSION IS FREE TO ALL ACTIVITIES
Downtown Rocky Mount will be dressed in "white lights" /  shops will be open / Franklin Street will be filled with food and craft vendors.
The town administration estimated attendance between 10,000 and 12,000 for the 2016 event.  Please thank our major partner/sponsors,  Fidelity Bank, Town of Rocky Mount, the Franklin County Office of Economic Development,  Carilion Franklin Memorial Hospital, Franklin Finance, Davis Heating and Air, and TNT.   Franklin County Parks & Recreation play a huge role in helping organize and manage the North Pole.  Along with other businesses in the area, our sponsors brought this event free to the public.  
"Come Home to a Franklin County Christmas" is a signature event for our community and is embraced by residents and visitors alike. We continue to be appreciative of the entire community for participaitng.
Hosted by Community Partnership
Contact This email address is being protected from spambots. You need JavaScript enabled to view it. for details